Being a recommended High Rocks wedding photographer is a real honour.  Carly and Ben chose the perfect venue for their late summer wedding.  I'll get back to all the reasons why I love shooting High Rocks wedding photography later.  First, let's start at the beginning of Carly and Ben's day.
Now this wasn't the first time I'd photographed Carly.  I photographed her as a bridesmaid at her friend Jade's (Carly's maid of honour) wedding back in 2016.  It always great to see clients again and be recommended in this way.
I started the coverage with the guys (Ben of course who was being looked after by his grooms' party consisting of Lee and Gary) I caught up with them at the Smith and Western hotel in Tunbridge Wells.  Ben drove to the Church in an classic Aston Martin convertible car.  Carly made her preparations at the beautifully restored Georgian Tunbridge Wells Hotel in the fashionable pantiles area of Tunbridge Wells.

The ceremony was held at St Thomas Church in Groombridge.  St Thomas's was designed by famous architect Norman Shaw and was opened for worship in 1884 and remains a central point in village life in pretty Groombridge to this day.
My assistant on the day was my son Miles who found many ways to be useful! Take a look here!  Assistant Miles is his official meme title. 🙂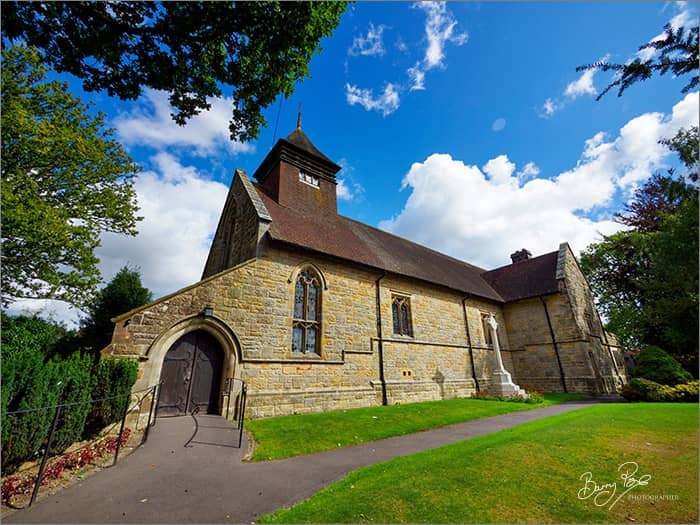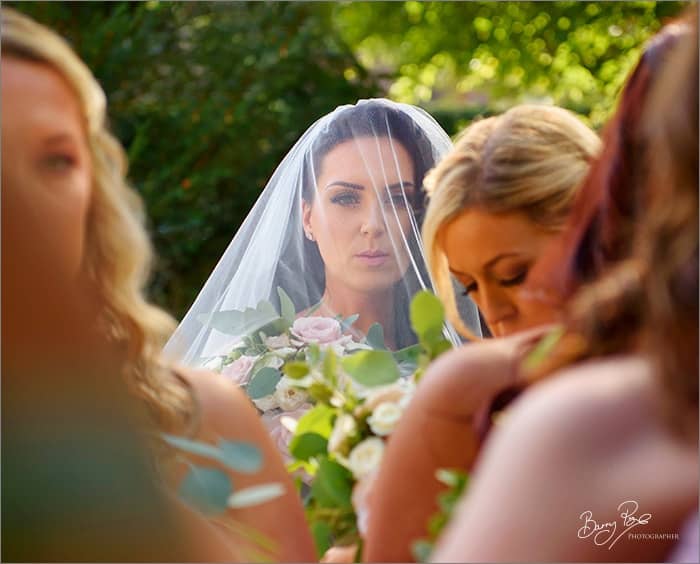 Now it's always nice to work with other professionals in the industry and this is never more so the case as when I get to work with the talented people at Cut Above Productions who did the videography on the day.  (For advice choosing a videographer take a look at my blog post choosing a videographer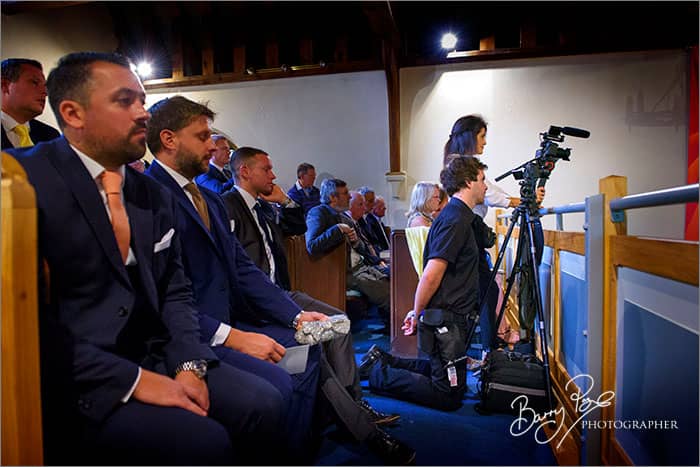 After a lovely ceremony there was confetti and a Dixie jazz band played.
Then Carly and Ben hopped into the Aston Martin whilst their guests all walked to Groombridge train station with the jazz band leading the way.   Now it's the little touches I like at weddings and at this one it was the little cans of Pimms with straws awaiting everybody at the station.  One of my favourite moments of the day was seeing Carly and Ben dancing to the Dixie band on the station platform.  Everybody then jumped onto the magnificent Wedding Belle steam train and travelled to the grounds of High Rocks.  What a wonderful way to travel to your wedding reception!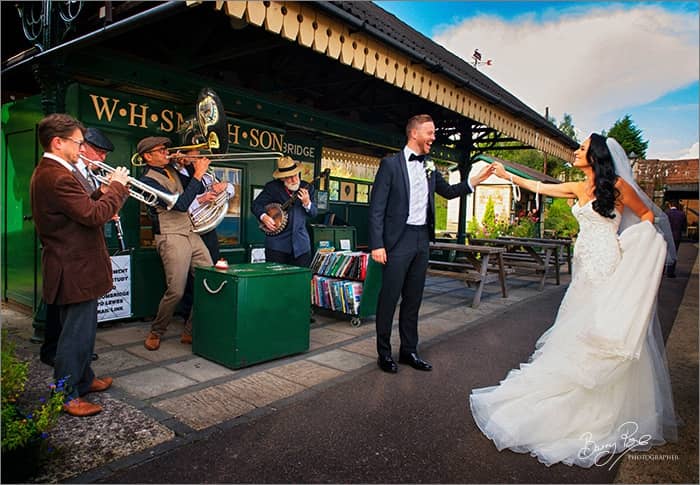 After a lovely reception, with the catering team at High Rock providing a sumptuous wedding breakfast everybody enjoyed an evening reception that saw everybody partying until well into the night.
Now back to why I love shooting wedding photography at High Rocks.  It is such a breathtakingly beautiful venue.  Imagine a historically rich house set in acres of woodland with four magnificent oak beamed function rooms, stunning grounds and terrace and a steam train stop in the garden!  In fact you don't have to imagine it just take a look at my images.  High Rock boasts itself as one of the most attractive venues in the South East of England and as a frequent visitor I have to say I agree!  I love the way the rocks provide the most beautiful backdrop for me when taking shots of my clients.

As a High Rocks wedding photographer it always gives me great pleasure to return and  photograph this extraordinary backdrop.
A gorgeous and stylish wedding for this lovely pair.  Congratulations to Carly and Ben for getting married and creating such a wonderful day for yourselves, your family and your friends to remember.  I hope my images will allow you to relive it again and again for many years to come.